5/09/2014
Cactus V6: The World's First wireless flash trigger that works ON ANY CAMERA to control power output
The Cactus V6 is the World's First wireless flash trigger that works on any camera (with a standard hot shoe or PC Sync port) to control power output, wirelessly, of Canon, Nikon and Pentax's TTL system flashes all at the same time.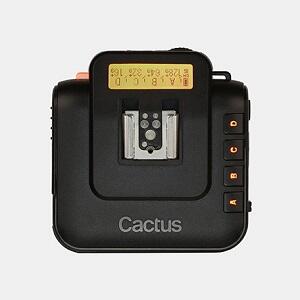 To demonstrate the V6's capabilities to control power of Canon, Nikon and Pentax TTL we took our model to do a studio for a portrait shoot.
Below are the key features of the V6:
TTL Pass-through
The V6 transceiver comes with a multi-system shoe that supports TTL pass through. With TTL pass-through, the TTL flashes behave as they would when directly connected to the camera hot shoe.
Quick Power Adjustments
V6 can control multi-group power output in just ONE QUICK SLIDE which is the FASTEST on any manual system available in market.
Precise Control
V6 is so advanced and precise that 0.1EV power level can be adjusted, even if the flash does not offer that option*.
*0.1EV increment applies to certain flash models only. Please check the user manual for compatibility.
Absolute Power Control
V6 can benchmark the power output of flash models with different GN. That means, photographer can ask a Nikon SB-910 and a Canon 430EX to emit the same intensity of light (in EV number), independent of the maximum power output of the models.
Major features:
- Wireless manual power control of a list of current and previous Canon, Nikon and Pentax flashes;
- Flash profile learning for analogue-TTL flashes;
- Full manipulation of power levels to 1/10, 1/3, 1/2 and 1EV steps;
- Lo Power mode fires the flash for extremely short lengths of time;
- Absolute Power Mode benchmarks the power output of different flash models to the same light intensity;
- TTL pass-through with Canon, Nikon, Olympus, Panasonic, Pentax, and Fujifilm via one single unit;
- Built-in optical trigger enables pre-flash triggering;
- Group control allows you to control up to four groups;
- Relay mode triggers the camera shutter and flash in sync;
- Delay timer is configurable from 1 millisecond to 10 seconds;
- Mini-USB port for optional power supply and firmware updates.
Cactus V6 :
http://www.cactus-image.com/v6.html
Here a full test of this trigger by
brianhurseyphotography.com
Via
petapixel.com
| Text and video via
Cactus Image
and
Brian Hursey