9/10/2014
Do you know Paul Buff? Recycle test from New Vagabond Lithium Extreme (VLX™)
Three Pure Sine Wave battery to AC inverters for powering AC operated studio flash systems in the field are tested for recycle times, cost and battery type. They are: The Paul C. Buff, Inc. Vagabond Mini Lithium (VML™) and Vagabond Lithium Extreme (VLX™) and the Photogenic ION - essentially a copy of the BUFF VML™.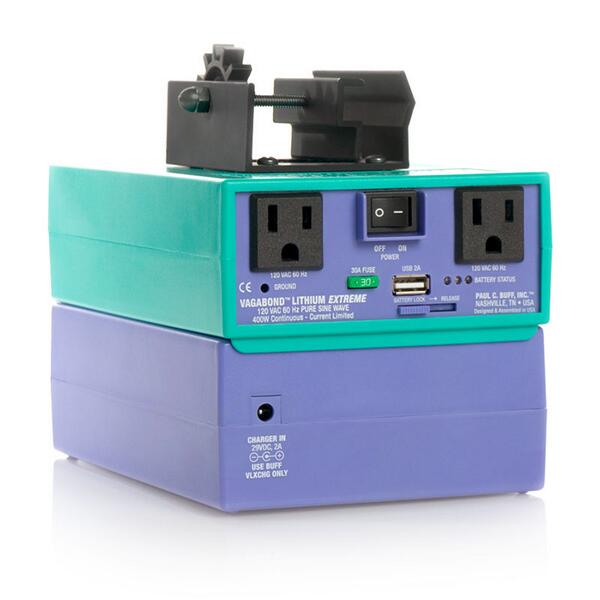 The tests were carefully performed, without bias, by Paul Buff, President of Paul C. Buff, Inc. and designer of the Vagabond Systems. The units tested were random production versions - not pre-screened for performance. The ION unit was one of four units purchased from four retailers and was chosen at random and verified as typical.
Recycle times were measured by use of the video SMPTE time code (Minutes/Seconds and frames) from the actual flash to the "Recycled" indicators. Note the video is at 30 frames per second so each displayed frame equals 1/30 second. After each test the SMPTE times were converted to seconds and decimals and displayed as such.
Each battery was fully charged before the tests and no editing or manipulation of times was performed. Most third party flash systems will operate with Vagabond™, though absolute recycle times may vary slightly with different brands.
For additional information about the Vagabond units, please visit
http://www.paulcbuff.com/vagabond.php
For a chart of the outcome of all tests performed, please visit
http://www.paulcbuff.com/video.php
Table of Contents
Product introduction –
0:15
Performance testing –
2:25
Results comparison –
7:35
Battery life comparison –
7:52
Credits –
8:02
Text and video via
Paul C. Buff, Inc.
Thanks Paul for sharing!!