12/01/2012
"The Vanishing Cultures: An American Portrait" with the largest film camera in the world
"The Vanishing Cultures: An American Portrait" will be an unprecedented commemoration of over 50 cultures across the United States through a 20,000-mile road trip with the largest film camera in the world and a stadium-sized nomadic tent exhibition that will combine state-of-the-art visual and sound effects with large format photography to provide a mind-blowing representation of our diverse nation.
Come and join us on this amazing journey.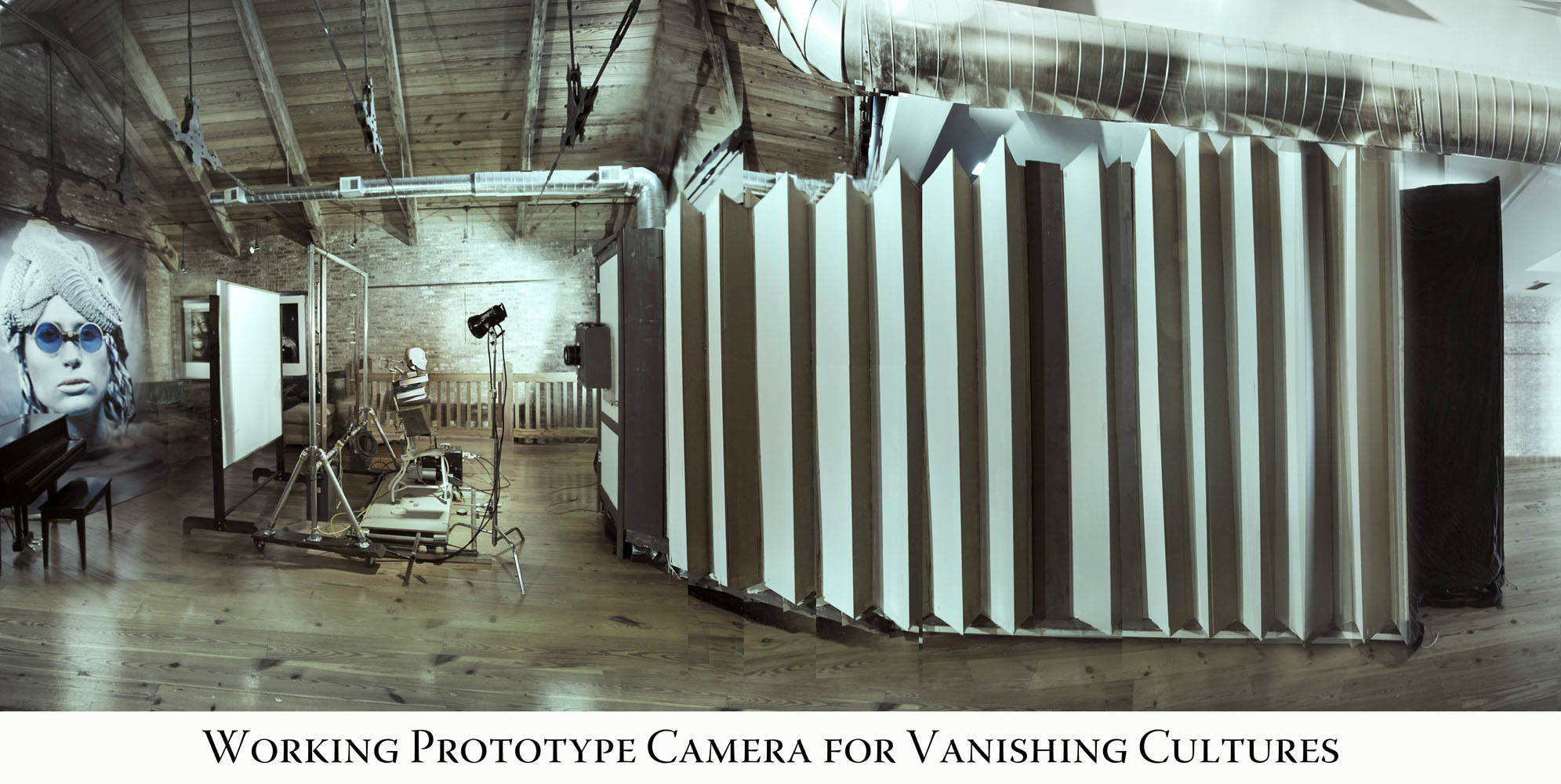 The BIG Idea
Step into Manarchy's inspiring Chicago studio and you'll believe you've traveled back in time. The photographs, classic cameras and artifacts collectively represent a dynamic career that has spanned
more than three decades. The highlight? A 35-foot film camera constructed and refined by Manarchy over the past 12 years, which has become the centerpiece of The Vanishing Cultures. Manarchy
admits, "the results from this prototype are humbling."
Its remarkable 6-foot tall negatives have measured over 1,000 times higher resolution than today's best digital cameras.
Manarchy's eyes glow as he explains the unprecedented scale and the dramatic results: "There is such a tremendous amount of detail in these pictures that they become iconic at that size and with this technique.
We always think a photograph is very detailed, but when I turn this camera on someone the eyelash is like a tube…it's translucent, you can see through it. You can see where it comes to a taper at the end, the light
wisping through it. …And that's just an eyelash! Imagine the rest of the face, how much more detail we can get from that."
Yet despite its unprecedented visual achievements, Manarchy recognizes, "the camera is just a tool…the faces and stories of these extraordinary people are what make this project special."
Construction plans are in place for a new, traveling version of the camera, and once it is completed it will travel the country to capture the unique stories and portraits of hundreds of individuals representing over 50 distinct cultures.
The end result will be a full cultural immersion and a learning experience unlike any other. Massive nomadic exhibitions will travel the country showcasing the stories of each individual through two-story portrait prints, negatives, film documentaries, dance, and music.
About photographer Dennis Manarchy :
Dennis Manarchy was raised in Rockford, Illinois. He grew a love for photography at an early age and won a scholarship to Rochester Institute of Technology where he graduated with a Bachelor of Fine Arts degree. Upon graduation he was fortunate to serve an apprenticeship for the legendary photographer Irving Penn. It was a highly disciplined and uncompromising creative environment. Penn became simultaneously a mentor due to his amazing talent and meticulous nature, and a nemesis because it took years for Dennis to break from his influence and really develop his own style.
Dennis was drafted into the army in 1968. After serving in Vietnam, he found himself anxious about returning to civilian life. He met a Lumbee Indian chief in a North Carolina bookstore, and after sharing his story he was invited to move in with the tribe. He lived with them for 6 months to readjust. This was a pivotal experience and has manifested itself in his latest project, "The Vanishing Cultures: An American Portrait."
After leaving the tribe, he returned to the Midwest, opened a studio in Chicago and built an international clientele. Throughout his career, he has won numerous national and international awards for his work on campaigns from Porsche to Nike to Harley Davidson to Dior. His first book "En Passant" won the prestigious American Graphic Design award and his latest books, "Metal" and "Metal 2" each won Graphis Gold in 2009 and 2010. He is consistently rated in the top 100 photographers of the world and was voted top photographer twice and top commercial director once.
Dennis' Metal and Metal 2 projects were most recently profiled in a solo exhibition in Chicago at
Hilton|Asmus Contemporary
. "The Vanishing Cultures: An American Portrait" is his most ambitious project to date.
Text, images and video via
thevanishingcultures.com